Sunrooms
PROFESSIONALLY DESIGNED SUNROOMS
Let our team get you a little closer to the outdoors from the comfort of your home with a sunroom addition or screened patio. Sunrooms, screen rooms, three season rooms and solariums continue to grow in popularity as a way to increase the living space in your home and provide a great way to enjoy the outdoors.
Build an addition, add screens to a covered patio or enclose a slab patio. Your new sunroom let's you enjoy fresh air while avoiding rain, hot sun and warm weather pests. It also is a great way to add to the value of your home, retaining at least 75% of its value.
Considering a sunroom addition?
Your first step is to determine how you plan to use this unique addition. Our professionals walk you through the process, from framing to screening to sliding glass doors. Your roofing options range from metal to shingle to glass. We handle all the details, including permits, codes and energy efficient options for glass and roofing.
Our goal is to make your sunroom addition a comfortable living space for your lifestyle. Design plans include answering the following questions:
Will your space be open air only, or do you want the ability to close windows?
Will you want the option to heat or cool your sunroom?
Will you include some tropical plants in your décor?
Will you want the option of privacy in your sunroom?
Do you plan to include television, sound and other media in your sunroom?
The ability to create the perfect blend of fresh air and sunshine all but guarantees your new sunroom will be the most used room in your home.
Our experts can enclose almost any existing covered space, so call today with your vision and let us help you make it a reality. Our design consultants visit your home, take measurements and provide you with a free estimate for your new sunroom in Akron, Ohio. Make an appointment today.
Our Services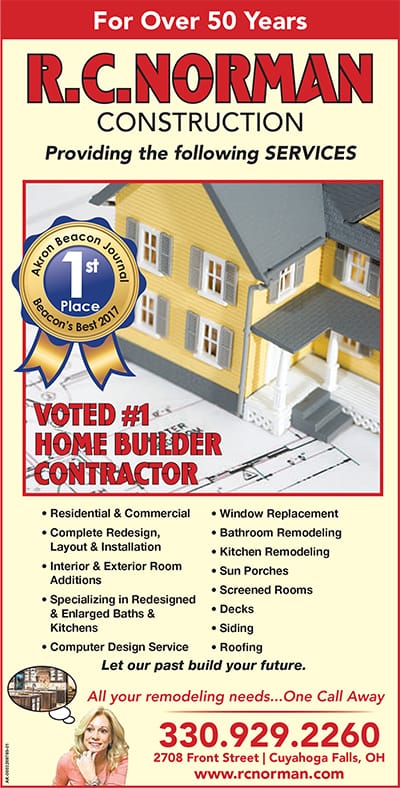 Residential/Commercial
Complete Redesign
Room Additions
Bath and Kitchens
Read More